Highlights from Announcements 10/26/20
From the Registrar
Course Drop Deadline is this Wednesday!
Don't forget that the last day to drop courses or change grading basis is this Wednesday, October 28. Students should check Student Center to verify that:
You are properly enrolled in all your courses
You have dropped any courses that you don't intend to complete – including courses you are auditing
Your grading option is correctly set to letter grades, pass/fail, or audit
The credit option, if available, is correct
Changes will not be permitted after Wednesday. Be proactive and confirm your enrollment is correct!
---
Remaining Socially Connected While Physically Distanced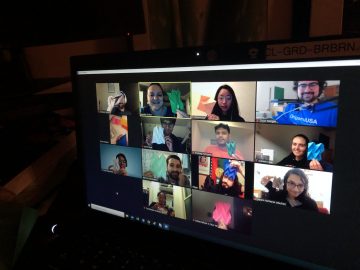 How do you make friends and connect with other students if you can't meet in person?
For Jen Forbes, director of the Big Red Barn Graduate and Professional Student Center (the Barn), the graduate community always meant warm evenings at the Barn where students got together for trivia, chocolate tasting, TGIF happy hour, and many other events. With COVID-19 restrictions in place, finding new ways to build community and host fun events was a difficult problem frequently discussed at staff meetings.
"We wanted to find a way to build a community, even though we couldn't meet in person," Forbes said. The Barn staff brainstormed how to make remote events feel even more physical and how to bring new and returning students together, even if they are studying miles apart.
---
Cornell Startup Combplex Wins $500K in 76West Competition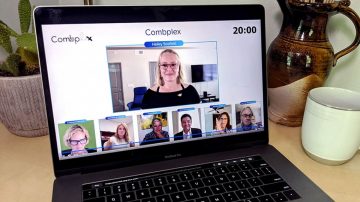 The latest achievement by a Cornellian-led startup dedicated to protecting honeybees – a $500,000 runner-up prize at the fifth annual 76West Clean Energy Competition – is creating quite the buzz in New York's Southern Tier.
Combplex, founded by doctoral students Hailey Scofield and Nathan Oakes, former research fellows with the Cornell Atkinson Center for Sustainability, was among 19 finalists selected from 183 applicants worldwide to compete in the virtual pitch competition in mid-August.
---
Special: Election-related Events and Information
Events:
Around Campus
For a complete listing, visit Cornell's events calendar.
Special Wellness Workshops: Coping with Election Week
Monday, November 2 – Friday, November 6 — Register
For so many reasons, fall 2020 is unlike anything we have ever experienced. Acknowledging how stressful our upcoming election is for many of us, Cornell Wellness will facilitate daily events including mindfulness meditation and de-stress stretching workshops to help you cope with physical, mental, and emotional strain during the first week of November.
Workshops will include:
Resources:
For teaching assistants:
For all students:
---
New Downtown Testing Site
On Friday, Oct. 23, the university opened a new downtown testing site at 130 E. Seneca Street (across from the Ithaca Commons at the intersection of Seneca and Tioga Streets). The new site is designed primarily to support testing for graduate and professional students living nearby or who are not regularly reporting to campus.
Scheduling for the site is available in the Daily Check portal and will operate four days per week, Friday to Monday, from 10:00 a.m. to 6:00 p.m. The university testing team will monitor usage and adjust operational days and times when necessary.
---
Complete the Daily Check!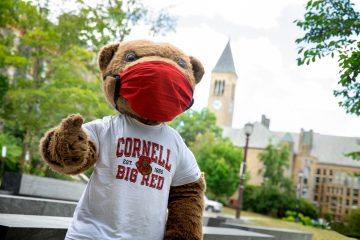 Any student in the greater Ithaca area needs to complete the Daily Check every day, including weekends, regardless of course modality.
Many students are completing the Daily Check regularly. Continuing the level of success seen on campus in terms of low transmission rates takes everyone logging in each day, in addition to wearing masks, physical distancing, and frequent hand washing. With the weather getting colder and time spent indoors increasing, it becomes even more critical to complete the Daily Check.
Complete the Daily Check and learn more.
---
Student-Parent Dependent Care Grant
Application deadline is this Friday, October 30!
If you are a student-parent, funds may be available to support you! Visit the Students with Families website for more information.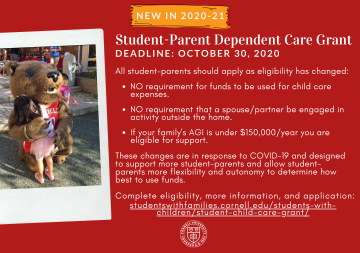 ---
Student Spotlight: Jenna Hershberger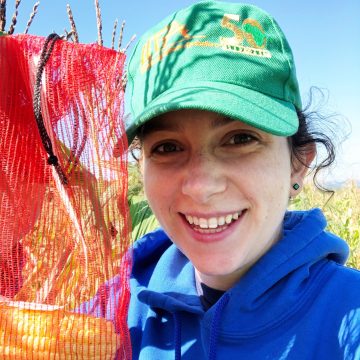 Jenna Hershberger is a doctoral candidate in plant breeding from Madison, Wisconsin. As a 2020 Borlaug Scholar, she is connecting with other scientists in her field and working to improve food security through enhanced nutrition and resilience in crops.
Read the full student spotlight
Interested in what other graduate students are doing both on and off campus?
Check out our student spotlights, Q&As with current students about their research, hobbies, and experiences at Cornell.
---
Kudos!
PAM Doctoral Candidate Receives APPAM Award
The 2020 APPAM/Journal of Comparative Policy Analysis Award will be presented to policy analysis and management doctoral candidate Emily Parker for her paper, "Political Controversy, Partisanship, and Health Care for the Poor: A Comparative Analysis of U.S. Policies, 1965-1989."
---
Doctoral Student Receives AP-LS MacArthur Grant
Human development doctoral student I-An Su received the Grant in Aid for Graduate Students MacArthur Award from the American Psychology-Law Society (AP-LS) (APA Division 41) for her research on death row inmates' adjunctive competency with John H. Blume, Samuel F. Leibowitz Professor of Trial Technique at Cornell Law School.
---
Sociology Doctoral Candidate Presents in University of Dhaka Summit
Sociology doctoral candidate Abdullah Shahid presented in "The Innovation, Creativity and Entrepreneurship Summit" organized by the University of Dhaka on October 10, 2020. The presentation, "Creativity, Innovation, and Entrepreneurship: 3 premises, 2 propositions, ∞ Promises", was about the missing role of youth and women in innovation and entrepreneurship.
---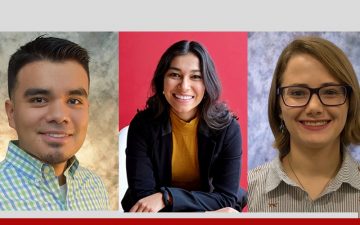 PAM Doctoral Students Lead Ph.D. Program Preview Day
Policy analysis and management (PAM) doctoral students Rene Crespin and Tatiana Padilla and economics doctoral student Grace Phillips led a PAM Preview Day to raise awareness about the doctoral program as well as increase the number of underrepresented minorities within future cohorts. Read more.
---
Three Doctoral Students Win MAE Engineering Video Contest
Doctoral students Ida Ang, Zezhou Liu, and Jaemin Kim, who study with professors Chung-Yuen Hui and Nikolaos Bouklas, won a research video contest hosted by the Sibley School of Mechanical and Aerospace Engineering (MAE). Watch their winning video: "Effect of elastocapillarity on the swelling kinetics of hydrogels."
MAE launched this competition for short research videos and lab tours to make sure incoming doctoral students felt included this year as in-person orientation events were canceled. Current students were encouraged to provide online material for new students to get to know both other students and labs in a safe way.