Highlights from Announcements 7/20/20
Campus Reactivation Town Hall for Graduate and Professional Students
Wednesday, July 22, from 4:00 – 5:00 p.m. (EDT)
Special town hall to discuss reactivation of the Ithaca/Geneva campus for Fall 2020. Please submit your questions in advance on the registration form so panelists can answer as many as possible during the town hall.
Panelists will include Provost Mike Kotlikoff, Graduate School Dean Barbara Knuth, Vice Provost for International Affairs Wendy Wolford, and Director of Student Disability Services Zebadiah Hall. Vice Provost for Engagement and Land Grant Affairs Katherine McComas will moderate.
All participants must be signed in to Zoom with their NetID to join this webinar.
If you have not activated your Zoom account or NetID, you must do so in advance of the forum so you can sign in to participate. Use the following links to activate Zoom and activate your NetID: Zoom activation and NetID activation.
---
Campus Reactivation Updates
Virus Testing: A cornerstone of Cornell's campus reactivation plan is a comprehensive testing program. Any student who is currently in the Ithaca area should schedule an "Arrival Test" with Cayuga Health System today. All graduate and professional students who currently reside in or plan to live in the greater Ithaca area, including in Cornell housing, during the 2020-21 academic year will be required to participate in the testing program as part of the Cornell Behavioral Compact. Additional details were announced in a July 15 message from Vice Provost Koretzky and Vice President Lombardi.
ICE Order Rescission: Immigration and Customs Enforcement and the Department of Homeland Security have rescinded the July 6 ruling that required international students taking all online-only classes to leave the United States. This means that national guidance issued in March allowing currently enrolled students taking online courses to reside in the U.S. and maintain legal F-1 status will remain in effect throughout the fall semester. Cornell's International Services office is seeking clarification on how the March guidance applies to incoming students and will communicate as soon as we know. For additional information related to immigration, visa status, travel, and more, visit Cornell's International Community FAQ.
Prior to Travel: You are strongly encouraged to quarantine at home for 14 days (changed to 10-day quarantine on 1/6/21) and be tested prior to departing for Ithaca. COVID-19 testing differs by location; we recommend you seek testing at your current residence 5-7 days before traveling, if possible. You will also be tested upon arrival in Ithaca through the Re-entry Checklist.
Re-entry Checklist: The Re-entry Checklist is your guide to a safe start to the semester and your ticket to enrolling for classes whether you'll be on campus or remote. All students must complete the checklist. Required information includes, among other items, a local address for the fall semester (if you will be living off campus in the Ithaca area) and emergency contact information. Students living off campus will also have the ability to schedule their required arrival test through the checklist. Students living on campus will receive details on testing in their move-in materials. New students should note this is in addition to the To Do List.
Finding Support: These are unprecedented times with unique stressors. The staff at Cornell Health is here to offer support whether you are in Ithaca or away from campus, through telehealth appointments with CAPS counselors, COVID-related death and grief support groups, drop-in CAPS workshops on coping, mindfulness, LGBT+ wellness, and more.
---
Campus Reactivation Committees
As previously announced , there are eight committees charged with implementing recommendations to reactivate Cornell's campus, as found in the reopening reports on teaching reactivation and preparations. The committees focus on teaching/advising, research, health considerations, international, student life, faculty/staff guidance, facilities/supply chain, and communication/community relations.
Learn more about the implementation committees and share questions and concerns.
---
Research Reactivation Updates
For students interested in conducting human subject research, Cornell Research Services has published guidelines for conducting human subject research in NY State Phase 2 or greater opening. Also visit the Research Services website for more information and updates on conducting research during the pandemic.
---
'Making it Work': Flexibility During COVID-19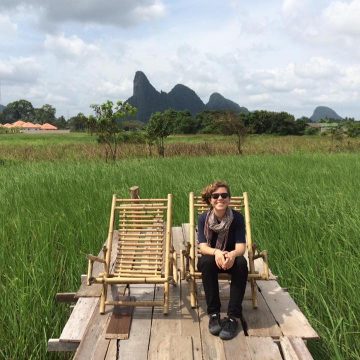 Emily Donald, a doctoral student in history, planned to go to Thailand this summer. Instead, she remained in Ithaca. Like many scholars at Cornell and around the globe, Donald's research was interrupted by the pandemic.
"I'm lucky to be in a position where I can be flexible and shift things around to make it work," she said.
Her time in Thailand would have included exploring archives and connecting with local organizations and institutions to further her research, which focuses on the historical meanings of love and desire between women and gender-nonconforming people in Thailand. She instead prepared for third-year exams by creating and working through reading lists and developing questions for her committee.
Biomedical engineering doctoral candidate Jason Chang's access to important materials also vanished when the university went remote in March. After months optimizing a device and collecting preliminary data that would serve as the foundation for his remaining dissertation research, he had to rethink his next steps.
---
Anti-racism Resources
An anti-racism resource webpage has been created by the Office of Faculty Development and Diversity to help engage in reflection, conversations, and action about race and anti-racism. The list includes experiences (including the Graduate School's My Voice My Story program), podcasts, articles, short stories, books, films, practice, and links to additional resource compilations.
---
Student Spotlight: Johana Uribe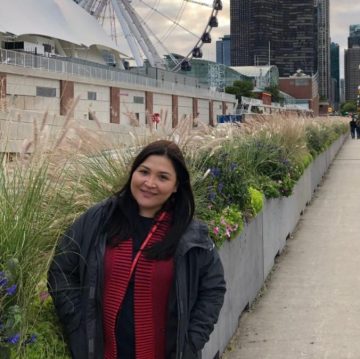 Johana Uribe is a doctoral candidate in biomedical engineering from Medellin, Colombia. She chose to pursue a doctorate at Cornell due to its welcoming environment, the students and professors in her field, and the diverse community.
Read the full student spotlight
Interested in what other graduate students are doing both on and off campus?
Check out our student spotlights, Q&As with current students about their research, hobbies, and experiences at Cornell.
---
Kudos!
Aerospace Engineering Doctoral Student Awarded Best Student Paper
Keith LeGrand received the award for Best Student Paper among 109 eligible peer-reviewed submissions at the 23rd International Conference on Information Fusion for his paper entitled "The Role of Bounded Fields-of-View and Negative Information in Finite Set Statistics (FISST)." Watch the awards presentation.
---
Postdoc Gives TedX Talk on Emotional Well-being
Cornell postdoc Deeksha Sharma gave a TedX talk on emotional intelligence and mental health, titled "Greatest talk with the mind: the roots of our emotions." View her talk.