Highlights from Announcements 8/22/22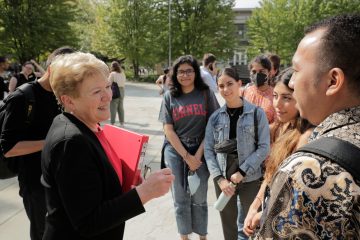 Dean of the Graduate School and Vice Provost for Graduate Education Kathryn J. Boor speaks with incoming graduate and professional students on Bailey Plaza at the 2022 Graduate School Dean's Welcome on August 18.
---
Registrar
Complete Your Fall Checklist
All new and returning students must complete the Fall Checklist to avoid a registration hold, and possible withdrawal.
---
Fall 2022 Important Dates and Deadlines
Aug. 22 Classes begin
Aug. 29 Last Day to Add Classes/Change Credits (7 week courses)
Sept. 6 Last Day to Add Classes/Change Credits (15 week courses)
---
Checking Enrollment Status and Holds
To check your enrollment status, log into Student Center. Holds are displayed in the Holds box. Holds that prevent university enrollment require immediate attention. Click on "Details" for complete information about the hold and the steps to resolve it.
---
Fellowship and Assistantship Stipends
Fall 2022 Stipend Payments
University Fellowships – Ph.D. students should receive their fall 2022 fellowship stipends by August 22, 2022. If you have not received your fellowship stipend by August 23, contact your graduate field assistant or the Graduate School Fellowship Office at grad_funding@cornell.edu to ask for a processing update. As a reminder, fellowship checks are generally paid in one payment at the beginning of each semester as a bursar refund. You can enroll in direct deposit for fellowship refunds here.
Assistantships (TA, GRA, GA, RA) – Students appointed on an assistantship for fall 2022 will receive stipend payments on a semi-monthly pay calendar, beginning on August 31, 2022. If you have not received your payment by September 1, please reach out to your graduate field assistant (GFA) to remedy the delay. Assistantship stipend payments are paid in semi-monthly increments throughout the semester in Workday. The first and last payments are partial payments. You can find your specific payment details in your appointment letter. Your GFA can help you if you need a copy of your appointment letter for the semester or need directions to enroll in direct deposit.
---
News
Graduate School Welcomes 1,700+ New Students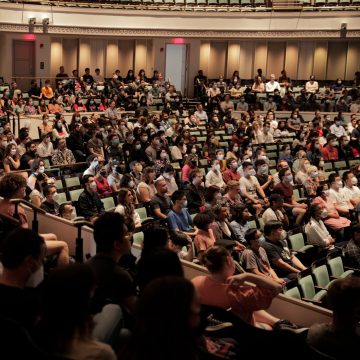 The Graduate School welcomed over 1,700 new graduate and professional students this fall, many of whom were able to attend the Dean's Welcome, held in-person for the first time since 2019. In her address, Dean of the Graduate School and Vice Provost for Graduate Education Kathryn J. Boor encouraged students to explore the cross-disciplinary opportunities offered by…
---
Student Spotlight
Rafid Bendimerad is a doctoral student in aerospace engineering from Algiers, Algeria. He attended the Ecole Nationale Polytechnique in Algiers, Algeria, as an undergraduate and now studies high-efficiency electric propulsion systems for small satellites. Bendimerad is a recipient of the 2022 Africa Fund Fellowship.
Read more about Rafid Bendimerad.
All spotlights.
---
Kudos!
Government Doctoral Candidate Published in International Organization
Government doctoral candidate Eun A Jo's research article, titled "Memory, Institutions, and the Domestic Politics of South Korean-Japanese Relations," was published in International Organization with open access.