Highlights from Announcements 9/16/19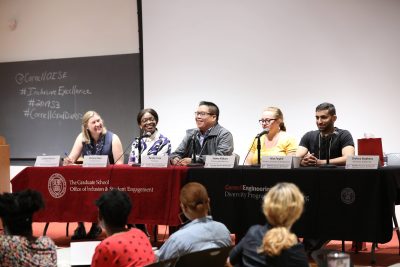 Symposium Encourages Student Success
New and continuing graduate students attended the daylong Summer Success Symposium on August 21 hoping for tips to aid a successful transition to and progression through graduate school. What they received were inspiring messages from current students, professionals, and alumni.
The morning focused on graduate student experiences, from transitioning to graduate school to taking first steps on a thesis or dissertation. The panel of five current doctoral students and candidates reflected on their paths to Cornell and finding their places, while dissertation coach Wendy Carter-Veale, Ph.D. made the process of approaching a thesis or dissertation less daunting.
---
Student Child Care Grant Program
The objective of the Student Child Care Grant is to provide financial assistance to as many Cornell students with child care expenses as possible, ultimately allowing student-parents to better attend to their academic responsibilities.
Eligibility Highlights
Awards Based on Age of Child(ren):
Infant/Toddler/Preschool: $4,100 maximum per child
Kindergarten to age 13: $1,030 maximum per child
Age 13 to high school graduation: $525 maximum per child
Per household: $12,500 maximum
Eligibility Based on Income (2018 Tax Year):
Family AGI 12 months $0-$73,000: 100%
Family AGI 12 months $73,001-$102,000: 50%
Family AGI 12 months $102,001-$122,000: 25%
Eligibility Based on your Spouse/Partner's Activity:
Employed over 35 hours/week: 100%
Enrolled as a full-time student: 100%
Considered legally disabled: 100%
Employed 25-32 hours/week: 75%
Employed 15-24 hours/week: 50%
Enrolled as a part-time student: 50%
Employed 6-14 hours/week: 25%
If unable to work due to visa status, but engaged in Cornell/Ithaca community at least 6 hours/week: 25%
The deadline for the application is Wednesday, October 30, 2019 before 3:00 p.m.
The application is available on the Students with Families website.
---
Activism: Necessity or Choice?
By Doctoral Student Janani Hariharan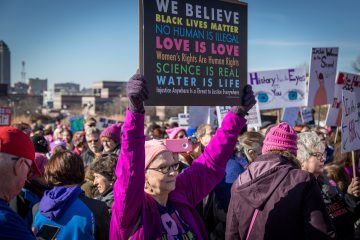 "Is that a flier for yet another diversity workshop? I'm sure this is important, but I really wish they would let us focus on the science and cut out these unnecessary distractions. We are here to do science, after all!"
This is how I was greeted one morning in the elevator. I didn't respond in that moment, but I kept thinking about those words for the rest of the day. Yes, it was true that I had entered graduate school for the love of science. Then why did I continue to invest time and effort into "unnecessary" diversity work? Why couldn't I just focus on the science, like a lot of other people were apparently doing? I wish it were that easy.
Read the Sister story or consider getting involved through one of the following organizations:
Graduate & Professional Students International (GPSI)
LGBTQ+ Graduate Student Association (QGrads)
Multicultural Academic Council (MAC)

Engagement with the Graduate and Professional Student Assembly
Graduate and Professional Mental Health Advisory Committee (contact co-chair Janna Lamey, Assistant Dean for Graduate Student Life at JSL62)
Graduate field or department level diversity councils/committees
---
Elaborate Mystery–Protein Quality Control

The cell is a dynamic environment. Molecules are constantly entering and leaving, and proteins are always being synthesized, regulated, and transported. Yet somewhere in all this constant movement of materials, the proteins that support the activity and structure of the cell may become damaged, broken, or worn, and so must be degraded.
How does the cell know when a protein has reached the end of its productivity, and how does it go about degrading this one specific, broken protein, in the midst of countless others? Jeff R. Jorgensen, a graduate researcher in the Scott D. Emr lab, Department of Molecular Biology and Genetics and director of the Weill Institute for Cell Biology, conducts research, hoping to answer these questions.
Read the Cornell Research story
---
Find Your Community with CampusGroups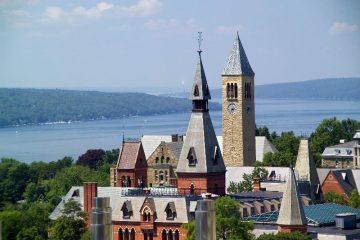 With nearly 350 groups for graduate and professional students on campus, every student should be able to find a group of like-minded individuals. From field-specific student associations to windsurfing groups and Chinese board game clubs, there are groups devoted to a wide variety of activities and interests.
Looking to find your community? Search CampusGroups or view the list of graduate and professional student organizations.
---
Kudos!
Graduate Students Awarded Scholarships and Fellowships
Thomas Ralph Davidson received the Josephson Family Graduate Student Scholarship for work in computational social sciences
Sebastian Diaz-Angel and Mary Kate Long received the International Dissertation Research Fellowship from the Social Science Research Council
Elizabeth Lucia Lyon was awarded the Sadov Family Graduate Student Fellowship for graduate students doing work in the arts and humanities