Highlights from Announcements 9/21/20
From the Registrar: Holds Preventing Registration Require Immediate Attention!
Students receiving communication regarding registration holds need to take immediate action to resolve all holds.
To check your registration status, log into Student Essentials.
If you are registered, your Registration Status will state "Registered" with a green checkmark.
If the green checkmark is not present you are NOT registered.
Click on "more information" for complete details on holds preventing registration and steps to resolve the hold.
Please contact Graduate School Student Services (gradstudserv@cornell.edu) with any questions.
---
COVID-19 Protection Kits Available
Graduate students can pick up a "welcome kit" containing COVID-19 protection supplies at the Cornell Store. Each kit contains a thermometer, two face coverings, and hand sanitizer. They are free of charge. Students can pick one up at the Main Campus Store (entrance facing Day Hall) or at the Ithaca Commons Store. Kits are available anytime during store operating hours right at the entrance doors.
---
New Students by the Numbers: 2020-2021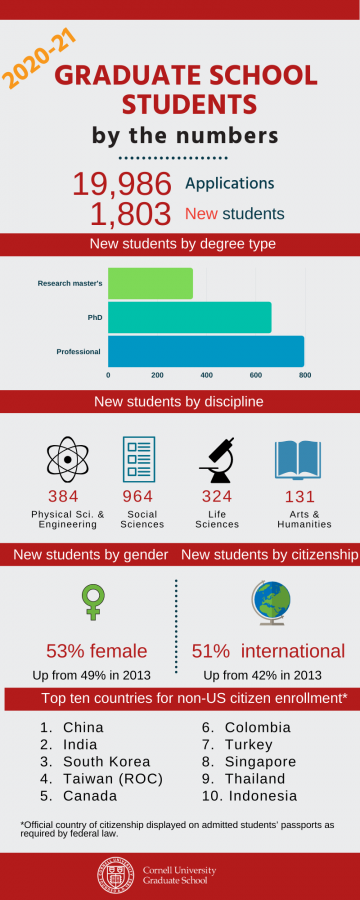 ---
Attendance Soars for 2020 Online Transitions Workshops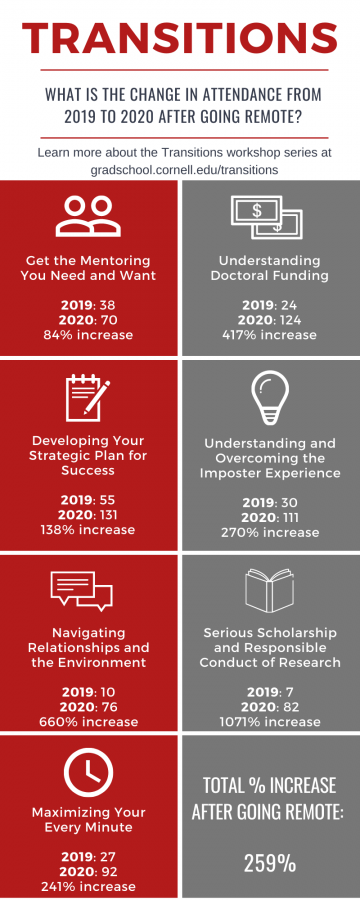 Record numbers of students attended this August's online Transitions workshops. Unlike years past where physical space limited attendance to about 60, Cornell's move to remote professional development allowed greater numbers of participants to learn about graduate student life at Cornell, with some sessions seeing upwards of 100 participants.
"Transitions… Navigating Graduate School for First-Year Students", a key component of Graduate School Orientation, went remote along with all other orientation activities. Through seven sessions, each offered twice, incoming students learn skills for a successful transition to graduate school with topics ranging from imposter syndrome to time management.
According to Jan Allen, associate dean of academic and student affairs and orientation committee chair, the move to remote resulted in unexpectedly high turnout.
Read the full story and view the infographic.
---
Transitions Session Recordings Now Available
As part of a continued orientation experience, the Graduate School sponsors a special seminar series for first-year graduate and professional students where students gain valuable information and skills for a successful transition into graduate school.
Recordings of this year's sessions are now available on the Orientation Hub and available to all graduate students. View the videos and notes:
---
Student Spotlight: Victoria Ortega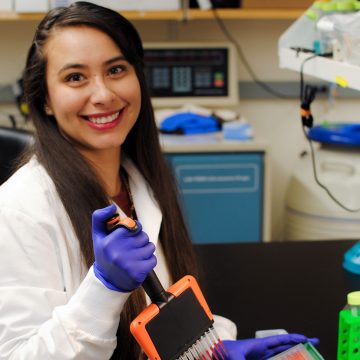 Victoria Ortega is a doctoral student in biomedical and biological sciences with a concentration in immunology and infectious disease from Thornton, California. After attending California State University, East Bay as an undergraduate and beginning her graduate studies at Washington State University, she transferred to Cornell to continue research with her advisor and discovered a welcoming community.
Read the full student spotlight
Interested in what other graduate students are doing both on and off campus?
Check out our student spotlights, Q&As with current students about their research, hobbies, and experiences at Cornell.
---
Kudos!
Materials Science and Engineering Master's Student Selected as Finalist for IChemE Awards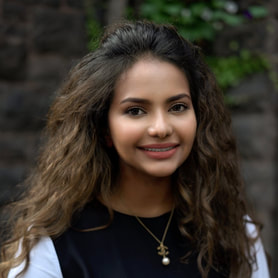 Bashayer Aldakkan, a master's student in materials science and engineering, was selected as a young industrialist finalist for the Institution of Chemical Engineers (IChemE) Global Awards 2020. The selection recognizes candidates that demonstrated tangible application of engineering skills to address technical, environmental, and social challenges.