Record High Attendance at Writing Boot Camp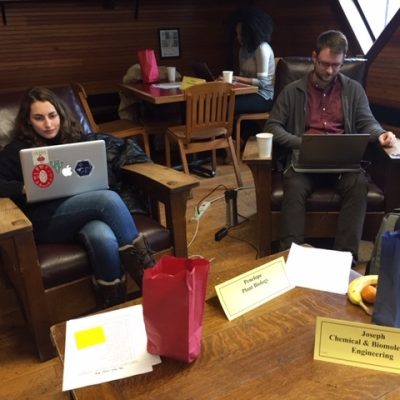 March 21, 2022
By Katya Hrichak
This year's Proposal, Thesis, and Dissertation Writing Boot Camp went virtual and broke records. Nearly 400 writers from 50 institutions joined this year's immersive Boot Camp to develop productive writing habits in a supportive environment. The previous virtual attendance record was set with over 300 students attending 2021 Writing Boot Camp; the record for in-person Boot Camp was in 2019 with 72 students gathering in person at Cornell's Big Red Barn Graduate and Professional Student Center.
Associate Dean for Academic and Student Affairs Jan Allen has hosted Boot Camp each year since starting the program in 2013. Students can participate for four, five, or six days, during which they attend group meetings, receive individual coaching, and write alongside fellow students.
"The supportive atmosphere is what makes each Boot Camp so successful," said Allen. "This year, students were so engaged that we had to find ways to keep the Zoom meeting open nearly 24 hours a day to accommodate all of the participants' different time zones!"
The online environment was conducive to productivity as well as community-building, according to Lissette Lorenz, a doctoral candidate in science and technology studies. Lorenz has participated in Boot Camp three out of her five years as a Cornell graduate student.
"There was always someone online or on Zoom that I could write and chat with, at nearly all hours of the day and night," she said. "I enjoyed how organically we shared information and resources with each other through digital means, including Google docs, Jan's daily recap emails, and WhatsApp groups."
Students in attendance reported overcoming procrastination, finding motivation, and developing a community despite the pandemic's continuing challenges.
"I was finding it hard to develop a regular writing habit and break out of writer's block," said Motasem Kalaji, a doctoral candidate in communication. "Boot Camp was a great opportunity to find strategies to overcome such barriers and learn from others."
Even after the session is over, students continue their discussions and collective writing during periodic "Re-Boots," which invite writers back for a daylong Boot Camp.
"Every graduate student who would like to enhance their relationship with writing should be part of these writing Boot Camps," said Kalaji.
Boot Camp was developed as one of the Graduate School's academic writing support programs. Additional programs include writing consultations at the John S. Knight Institute for Writing in the Disciplines, writing support for multilingual graduate students at the English Language Support Office, and annual fellowship application writing workshops hosted by the Graduate School.
For students interested in finding a writing community on campus, the Graduate School also offers Graduate Student Write-Ins every weekday from 8:00 to 11:00 a.m. at the Big Red Barn.
Related: