Highlights from Announcements 12/7/20
From the Registrar
Spring 2021 Pre-enrollment is Tuesday, December 8th
Spring 2021 pre-enrollment begins December 8 at 9:00 a.m. and ends December 9 at 11:59 p.m. Please take these steps to ensure you are ready for spring classes.
Review the Guide to Spring 2021 Enrollment. Understand the instruction mode options and which one(s) will best suit your needs and intended location. Find the specific days and times for your pre-enrollment timeframe.
Check Student Essentials to make sure you have no holds preventing enrollment. If you do have holds, take action to resolve them immediately in order to avoid pre-enrollment delays.
Thesis/Dissertation Submission Deadline is Friday, December 11th!
Congratulations to students who have reached the finish line and plan to complete their degree requirements this semester. Please be aware that you need to submit your approved thesis/dissertation by December 11th to graduate in December. Contact the Graduate School (gradstudserv@cornell.edu) with questions or concerns.
University Recognition Ceremony
Congratulations to our December graduates and proud Cornell families! A virtual event will be held on Saturday, December 19, 2020, at 10:00 a.m. EST. The event will be live-streamed for students, family, and friends to watch.
---
Key Academic Calendar Dates
---
Open Presentation on Mental Health Review Findings
Wednesday, December 9, 12:00 – 1:00 p.m., Zoom

Interested in the key findings from the campus Mental Health Review? Members of the Executive Accountability Committee will host an open presentation of the Final Report and implementation process, with an opportunity for student Q&A. Students are warmly welcomed to attend.
---
Impact vs. Intent: Becoming Critical Allies Through Workshop Series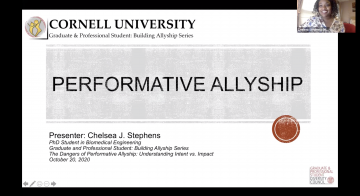 When it comes to allyship, there is an important distinction between impact and intent. To explore this difference, the student-organized Building Allyship Series is providing an essential space for the campus community to engage in productive dialogue about becoming more effective allies.
"To be an ally is not static – as our understanding of power structures grows, so too does our understanding of where we fit into these structures and how we can use our positions near the top for the benefit of the disenfranchised," said Marguerite Pacheco, biomedical engineering doctoral student and a series organizer.
---
Alumna/Postdoc Spotlight: Rachel Cheng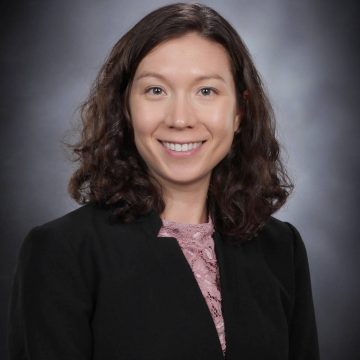 Rachel Cheng, Ph.D. '17, is a postdoc in food science from Deer Park, Washington. She holds a B.S. from Oregon State University in food science and microbiology and a Ph.D. from Cornell in food science and technology, and her research at Cornell focuses on understanding and preventing foodborne illness.
Read the full alumna/postdoc spotlight
Interested in what other alumni have accomplished since leaving Cornell?
Check out our alumni spotlights, Q&As with former students about their current work, experiences, and skills learned at Cornell.
---
Kudos!
Alumna Featured in Yale Scientific Magazine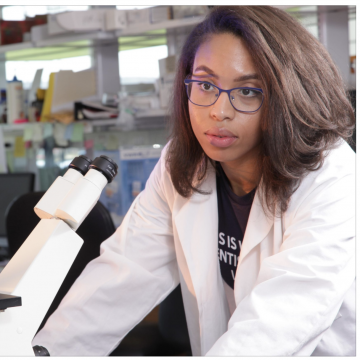 Korie Grayson, Ph.D. '20, biomedical engineering alumna and Cornell Bouchet Scholar, was featured in an issue of Yale Scientific Magazine celebrating the accomplishments of women in STEM at Yale and beyond. Read "'This is What a Scientist Looks Like': How Korie Grayson balances her STEM research with her interests outside of STEM."
---
Graduate Community Raises Funds for CRCFL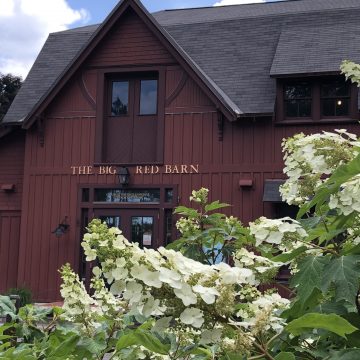 The Big Red Barn hosted a special trivia night to honor the late Alex Trebek, who had a long, public battle with pancreatic cancer. To help support those with cancer in the Ithaca community, the Barn also partnered with the Cancer Resource Center of the Finger Lakes (CRCFL) to raise awareness and funds. Through purchases of raffle tickets and donations, the Barn raised $630 for CRCFL.