Highlights from Announcements 5/11/20
Registrar: COVID-19 Deadline Extensions
Spring 2020 Drop Deadline & S/U Grading Option: The last day to drop courses or change grading basis has been extended to Tuesday, May 12. See the message, "Changes in Course Grading Policy for Spring 2020", for detail on S/U grading options. Students can drop courses with a W and petition to change the grading basis to S/U between May 12 and May 23.

Thesis/Dissertation Submission Deadline: The thesis/dissertation submission deadline has been extended to Friday, May 15. Refer to the Thesis & Dissertation Planning Timeline for detailed information on deadlines and submission requirements.
Due to the rapidly evolving situation, students should continue to monitor their email and the university websites for future updates.
---
Commencement 2020 Updates
Cornell's commencement weekend scheduled for May 22-24, 2020 has been postponed as explained in President Pollack's message to May 2020 graduates. While commencement will be delayed, graduates will receive their degrees on time and diplomas mailed in late June.
Optional Keepsake Cap and Gown Purchase Offer:
August '19, December '19, and May '20 candidates who would like to purchase an Optional Keepsake Cap & Gown to keep may do so between now and July 1, 2020. This is an optional, one-time offer for those who want to have outfits for photo opportunities to share with friends and family.

All orders will be shipped free of charge to the address provided when ordered. Be sure to enter the address where you will be located during the next four to six weeks to receive it in a timely manner.
Please refer back to the Commencement page often and thank you for your patience and understanding. For questions not answered in the sections on the page, please contact us via the Commencement Office email at commencement@cornell.edu.
---
Graduate Students Help Drive Cornell's Research Mission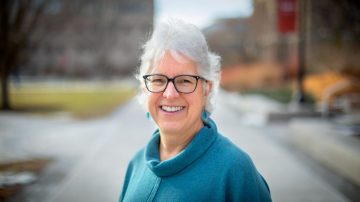 By Barbara A. Knuth, Dean of the Graduate School
I am inspired daily by the scholarly work of our graduate students. Their innovations and intellectual energy are vital to Cornell's research productivity.
Their inquiry and scholarship span the globe, tackling topics from using the human body's own immune response to fight diseases such as osteoarthritis (Tibra Wheeler, biomedical engineering) to gene sequencing grapevine diseases to improve plant health in Finger Lakes vineyards (Breanne Kisselstein, plant pathology), to applying scientific dating methods to reconstruct the sociocultural history of the prehistoric Caucasus region (Annapaola Passerini, anthropology).
---
"Future Faculty and Academic Careers," a New Name for a Long-Running Program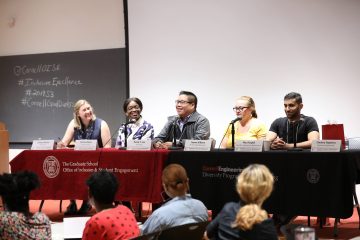 In the best of times, graduate students worry about their future career prospects. During uncertain times, it becomes especially important to focus early and often on the job market.
To help students who are interested in pursuing faculty careers, the Graduate School has renamed its Center for the Integration of Research, Teaching, and Learning (CIRTL) at Cornell program to highlight the new emphasis on career preparation and job search assistance, and the enhancement of skill-building programs.
Newly renamed Future Faculty and Academic Careers, the NSF-funded CIRTL program came to Cornell in 2012 as part of a nationwide effort to integrate research into teaching for the next generation of faculty members and to provide expanded access to online courses, workshops, and networking opportunities with colleagues at other CIRTL Network institutions.
Read the full Future Faculty story
---
Graduate School Consolidates Professional and Career Development Listings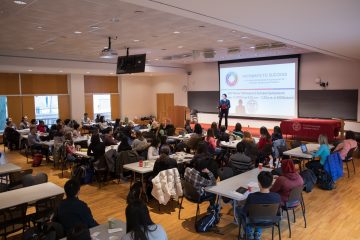 In a context complicated by uncertainties associated with the novel coronavirus, Cornell's graduate students have sought guidance about how to navigate academia, build transferable skills they need for a future career, and find community, but they have not always known where to turn.
To consolidate career and professional development resources within the Graduate School and across Cornell, the Graduate School launched a new section on its website describing related offices, programs, and a calendar of events.
"Graduate and professional students often explore careers inside and outside academia simultaneously. Developing a central presence for all academic, career, personal, and professional development opportunities will make it easier to move seamlessly across Cornell's many offerings," said Barbara A. Knuth, dean of the Graduate School.
Read the full professional development story
---
Motivation During Crisis, Part 2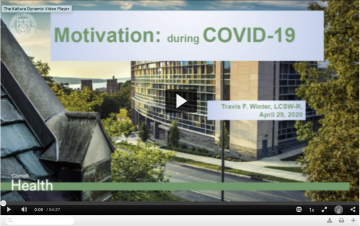 On April 29, Travis Winter, counselor/therapist from Cornell Health, spoke with over 75 graduate and professional students about motivation during crisis.
This session was unique from our first session on April 15 and included topics such as: motivation defined, our mindset as it relates to the pandemic, impact of COVID-19 pandemic on pre-existing mental health problems, and the impact on the imposter syndrome. We recorded the session for others to watch.
Watch a recording of the April 29 session.
---
Student Spotlight: Mariely Medina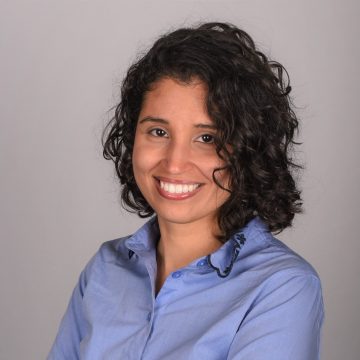 Mariely Medina is a doctoral candidate in food science and technology from Cayey, Puerto Rico. After earning a B.S. and M.S. from the University of Puerto Rico at Mayaguez, she chose to pursue further study at Cornell due to the learning possibilities, flexibility, and community in the field of food science.
Read the full student spotlight
Interested in what other graduate students are doing both on and off campus?
Check out our student spotlights, Q&As with current students about their research, hobbies, and experiences at Cornell.
---
Kudos!
La Serenata by Doctoral Alumnus Debuts on HBO
La Serenata, a short film by Ernesto Javier Martinez, Ph.D. '05 based on his award-winning bilingual children's book, is now available on HBO. Read more about Martinez and his short film.
---
Graduate Students' Company Wins Second Place Innovation Prize
Antithesis Foods, a company started and run by Cornell food science and technology graduate students, won second place in the 2020 Rabobank-MIT Food & Agribusiness Innovation Prize. Their innovation, Grabanzos, is a crunchy chocolate snack with more protein, fiber, and fewer calories. Read more.
---
M.I.L.R. Student Selected for Banco Santander-MIT Program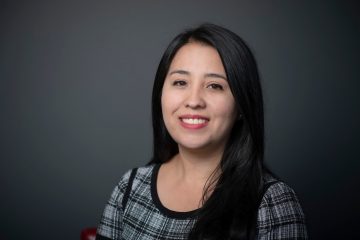 Nathalia Ruiz Torres, a master of Industrial and Labor Relations student with a concentration in human resources and organizations, has been selected as a scholar for the Banco Santander-MIT Leading Digital Innovation program. This scholarship provides the opportunity for students to complete a five-week online program about leadership and digital transformation with MIT Professional Education.